Battles
From EHWiki
Battle is a special screen in HentaiVerse game, where player can fight against monsters in order to get Experience points, Proficiency points, Items, Equipments and Credits.
Setup
Battles are initiated by the player entering one of the battle modes manually or via Random Encounters while browsing the E-Hentai site. No battles can triggered itself.
Each battle will spawn up to 10 monster to fight. In Random Encounter battle mode, exists a special handicap for low-levelled player to prevent them face many monsters at once.
The player always acts first. Monsters can't ambush player or do any action first.
The difficulty setting may be freely adjusted at any time outside of battle.
The player can flee from battle to prevent losing.
Terms
A "turn" refers to a single action from player (attacking, using spells, using items, etc.).
A "round" refers to a single fight with a set of monsters that ends once they are defeated or the players flee/dies.
A "battle series" refers to a set of battle rounds that last until completed or until the player flee/dies.
Combat
When it is the player's turn to perform an action, he may choose between 7 different actions:
Action
Description
Hotkey
|
Basic physical attack, applying physical attack stats against the target's physical defense stats.
Q


Prompts the player to select a skill to use or a spell to cast.

Pressing the hotkey R will recast the previously cast spell/skill on the previously selected target or on the player if a supportive/curative spell was cast.

If the previous target is dead it will open the Skillbook menu and select the previously cast spell/skill, but not cast it.
Recast works even if the player performs other actions in between.
If no spell/skill has been cast at all during the round hitting R will have same effect as selecting Skillbook.

Player can put spells/skills, he constantly use, in one of the quick-cast slots. This way, spells/skills can be selected via clicking and can also be selected using the hotkeys Alt + 1 through Alt + 0 (the number corresponds to the spell or skill's quickslot placement). These slots are linked with to the player's Personas and will be blank when switching to a new persona for the first time.

W
|
Prompts the player to use one of their Battle Items. To use that action, player should move Items from their Inventory to one of the Battle Item slot. By default every player has five Battle Items slots, this amount may be increased via specific Trainings. While player use items custom monsters can't attack him in between. Items restock themselves in battle based on various cooldowns.
E
|
Toggles Spirit Stance. Can be toggled once a player has at least 50% Overcharge and consumes one SP and 10% Overcharge per round.

On the current turn:

Physical damage is boosted by +100%.
Mana cost is reduced by 25%.

On the following turn:

Same as above, until player has enough Overcharge or he decided to toggle off Spirit Stance.

S
|
Use Defend command. Can be selected in anytime.

On the current turn:

Physical and magical mitigations are boosted by +25%.
10% Overcharge is consumed to recover 10% base health (requires 10%+ overcharge).

On the following turn:

Physical and magical mitigations are boosted by +25%.

D
|
Use Focus command. Can be selected in anytime.

On the current turn:

Evade, Block, Parry and Resist? reduced to 0% (-100% penalty). Monsters can still miss though. Note: only for this turn.
25% Overcharge is consumed to recover 5% base mana (requires 25%+ overcharge).

On the following turn:

Magic Hit Chance/Spell Hit Chance is boosted by 100%?.
Counter-resist is boosted by 50%.

F
After selecting and executing a command each living enemy may perform an attack, spell, or spirit attack. Most of the time this will result in the end of a turn, though sometimes certain abilities take longer to perform than others. In these cases, some enemies may act a second time before the player can respond.
Targeting
Enemies can be targeted by mouse clicking or keyboard's hotkeys 1 through 0 (either on the home row or number pad); 1 corresponds to the

through to 0 for

.
Targeting is important for certain Fighting Styles and spells that can hit multiple targets.
Criticals
There is a chance, that during regular physical or magical attack player or monster will perform critical attack (crit), which deals more damage than regular attack and provide 100% chance to execute a weapon's or spell's innate procs. Does not affect procs granted by equipment suffixes or fighting style.
Critical hits have the following properties:
Player's damage (physical & magical) is boosted by +50%. This extra damage may be increased further by:
The chance to deal critical attacks ("crit rate") can be increased by:
Monsters have a base 20% crit damage bonus and crit rate, increased by their STR and DEX (for physical attacks) and WIS and INT (for magical attacks).
Day of the Week
During each day of the week damage done by a damage type is temporarily increased (both for the player and for monsters). Mitigation for the element is reduced by 10 points except for Friday's which is 5.
| Day | Damage Type |
| --- | --- |
| Sunday | Holy |
| Monday | Dark |
| Tuesday | Fire |
| Wednesday | Cold |
| Thursday | Wind |
| Friday | All |
| Saturday | Elec |
End of Round
Round ends in this cases:
Player win (victorious) - after that occurs next round in battle series; player will be ejected from battle series if no further rounds are present.
Player lose (dies) - after that player will be ejected from battle series with penalties.
Player flees - after that player will be ejected from battle series with little to no penalties.
Victory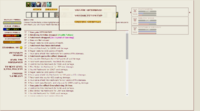 Player are winning round when every spawned monster died (their health are reduced to 0).
The player will be given a message to indicate their winning with next text:
"You are victories!
You Gain [Amount] EXP
Continue [Battle mode]"
Player should click on this "Continue" text string to move toward next round or press Spacebar.
Rewards for winning round are:
Rewards for winning battle series are:
Note: Stamina is slightly consumed at the end of every successfully cleared round; the amount consumed depends on player's existing amount of stamina (player with great stamina will lose double amount of stamina).
Losing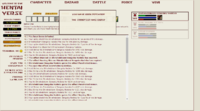 Player are losing the current round when his HP are reduced to 0 and Spark of Life does not proc.
The player will be given a message to indicate their losing with next text:
"You have been defeated!
The [Battle mode] has ended"
Penalties for losing current rounds are:
Note: Entering any new battle series without recovering at least 1 HP will result in another immediate loss.
Fleeing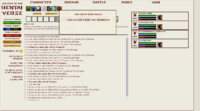 In any time player may flee from current round and left battle behind.
To escape from battle player should open his

and select "Flee" from

list.
The player will be given a message to indicate their successfully fleeing:
"You have run away!
You escape from the [Battle mode]"
Penalties for fleeing current rounds are:
Any progress made in a round will be lost. No credits, EXP, or drops are given for the incomplete round.

The player will keep any proficiency points gained during the round.

Any powerups held will be lost.
User-created monsters (besides the player's own) will gain a "Battle Won" during the round in which the player was fled.
Note: Leaving a battle takes one tick (roughly 1-2 monster turns); in that time monsters can kill the player. The Yakety Sax Hath Perk allows players to leave the battle immediately.
Recovering
While out of combat MP, SP and health are fully recovered instantaneously.
Battle Window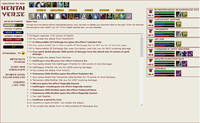 Player Side
Battle Log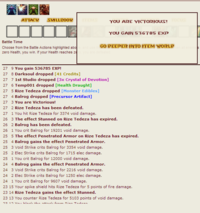 A log of all the events during the battle. Only shows the last 100 lines.
When a battle starts, the system prints information about the battle, which includes the type of battle, the current round (if in a multi-round battle series such as the Arena), and monsters' spawn information.
Monsters' spawn information contains the following:
MID: The monster's ID number. The monster's name is also listed in parentheses.
LV: The monster's level.
HP: The monster's starting health.
Log Colors For Drops
While Credit drops are shown in the log the player's amount will only update after the battle series has ended.
Monster Side
Each monster has its own row with the following:
Monster Letter : Refers to the monster's position for targeting purposes.
Monster Level: Equal to player's level.
Monster Color: Indicates the monster's class/rarity.
Monster HP: If reduced to 0 the monster is dead and can no longer take any action. If all monsters' health are reduced to 0 the player is victorious in the battle round.
Monster MP: Monsters can potentially use their magic attacks when they have at least 50% mana.
Monster SP: Only monsters with a PL of 400+ or Boss-class or higher monsters have these. Monsters can potentially use their spirit attack when they have 100% spirit.
Status Effects: The status effects (usually from deprecating spells) with which the monster is afflicted. Status effects are ordered based on their remaining duration, with the effects closest to expiring placed to the far left. Effects that are due to expire in 1 turn will blink. Hovering the cursor over an icon provides information on the effect. Up to 6 effects can be shown although more can be active.

See here for a list of known beneficial status effects.
Spawning Pattern
Battle Modes
A - Depending on challenge selected.
B - Depending on equipment quality.
See Also