Arena
From EHWiki
Jump to navigation
Jump to search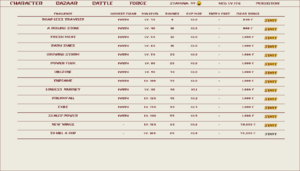 The Arena is one of the battle modes in the HentaiVerse mini-game.
The Arena is a multi-round battle that places players against common foes.
Details
Rewards
Limits
Each challenge:
Arena Challenges
Monster Legend:
x = Common/Custom


x

 = Boss


x

 = Legendary


x

 = Ultimate
Round Composition indicates the number of rounds with that specific amount of monsters per round.
Challenge
Min. Level
Rounds
EXP Mod
First Clear
Future Clears
Total Monster Count
Round Composition (Number of monsters)
1
2
3
4
5
6
7
8
9
Last Round
First Blood
1
5
1.0
100 C
20 C
5
4
1
Learning Curves
10
7
1,000 C
200 C
9
5
1
2
Graduation
20
12
2,000 C
400 C
27
9
2
3
Road Less Traveled
30
15
3,000 C
600 C
52
10
3
1
5
A Rolling Stone
40
20
4,000 C
800 C
77
11
3
4
1
6
Fresh Meat
50
25
5,000 C
1,000 C
126
14
3
3
3
1
8
Dark Skies
60
30
6,000 C
152
16
4
4
4
1
8
Growing Storm
70
35
7,000 C
177
19
5
4
4
2
8
Power Flux
80
40
8,000 C
202
22
5
5
5
2
8
Killzone
90
45
9,000 C
227
25
5
6
6
2
8
Endgame
100
50
10,000 C
233

+1

32
7
7
3
7

+1

Longest Journey
110
55
1.1
12,500 C
278

+1

30
7
7
7
3
8

+1

Dreamfall
120
60
1.2
15,000 C
356

+1

36
7
6
7
3
9

+1

Exile
130
65
1.3
20,000 C
385

+1

39
7
8
7
3
9

+1

Sealed Power
140
70
1.5
25,000 C
351

+2

39
9
9
8
4
8

+2

New Wings
150
75
1.6
30,000 C
350

+3

48
10
11
5
7

+3

To Kill A God
165
80
1.8
35,000 C
474

+1

48
9
9
9
4
9

+1

Eve of Death
180
90
1.9
40,000 C
452

+1

+1

50
11
12
11
5
8

+1

+1

The Trio and the Tree
200
100
2.0
50,000 C
494

+4

56
12
13
12
6

4

End of Days
225
110
2.2
414

+2

+57

54
10 (3

+1

)
18 (4

+1

)
18 (5

+1

)
9 (6

+1

)
6

+2

+2

Eternal Darkness
250
125
2.5
313

+3

+127

41
37 (2

+1

)
5 (3

+1

)
26 (3

+2

)
15 (4

+2

)
4

+3

+3

A Dance With Dragons
300
150
3.0
558

+224

+3

37
37 (3

+1

)
13 (3

+2

)
25 (4

+2

)
25 (5

+3

)
12 (6

+3

)

3

Challenge
Min. Level
Rounds
EXP Mod
First Clear
Future Clears
Total Monster Count
Round Composition (Number of monsters)
See also