Gallery Tagging
From EHWiki
Jump to navigation
Jump to search
Tagging is a system of the E-Hentai Galleries to assist users in identifying the major contents and properties of a gallery.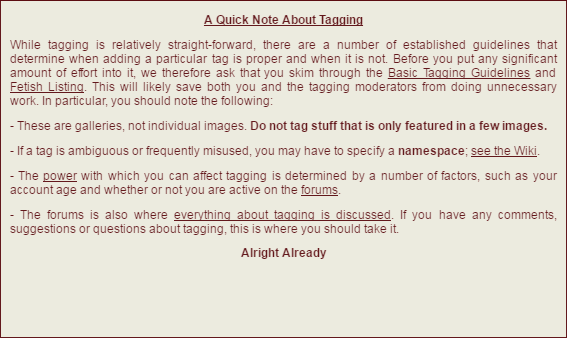 Usage Guidelines
Rule
Details
Examples / Exceptions
Presence
In general do

NOT

tag something unless it has a fair amount of presence in a gallery. Anything found in only 1-2 images should almost never be tagged.
Example: 10+ out of 80 images or at least 25% would be sufficient for tagging, more so if they are sequential. See the talk page for further details.

Exceptions: 1-Image Only Tags.

Definition
The meanings of various tags on this site may not match those of other sites. Please read the definition of each tag before using it.
Example: brother is only used in cases of yaoi incest.
Formatting
Tags only allow for alphanumeric characters, spaces, periods, and hyphens. Tags must be at least 3 characters long.
Exceptions: 3d or anything with a namespace (e.g. a:23).
Due to the aforementioned limitation certain terms are tagged differently than how they are normally written.
Example: The circle "#define" is tagged as "g:sharp define".
Namespace
Fetish tags use a female, male, or mixed namespace to indicate which gender(s) is applicable. For these purposes futanari and shemale are considered female.
Example: m:glasses if a male is wearing them, f:glasses for a female.
Conflicting
Tags such as cheating and netorare or dark skin and tanlines do not go together as they are mutually exclusive; they can only be tagged if they both occur separately.
Example: A participant with tanlines having sex followed by a dark skinned one in another instance would suffice for both tags.
Clothing
Costume tags such as schoolgirl uniform only apply if they are kept on (at least partially) during sexual activities. If they are absent or removed beforehand they should NOT be tagged.
Exceptions: For non-pornographic galleries the clothing does not need to be removed in any way.
Visual
Nearly all fetish tags are based on visuals, not text (see the next rule). If there is any conflict between what is being said and what is shown the visual wins.
Example: A young-looking girl saying she is old does not qualify for the milf / old lady tags.
Contextual
Contextual tags do not require visual presence but must have dialogue/story presence. These should NOT be tagged unless they are fairly obvious to a casual reader.
Example: A woman saying the man with whom she's having sex is not her husband counts as cheating.
New
The creation of new fetish/content tags is highly restricted. Please use the forums to discuss any new tag possibilities. See the Tag Directory for existing tags.
Exceptions: Artist, Group, Cosplayer, or Parody tags may be requested freely (with citations).
Animal
All animal tags require that an animal be explicitly involved in sex or nudity (e.g. animal on animal, bestiality).
Example: Two canines mating allows for the dog tag; a furry dog girl having sex with a human does not.
Tags are voted on by the users of the site as such they are subject to potential errors. Tags with solid borders indicate a higher confidence in their validity in relation to the gallery's content. Tags with dashed borders should be treated with greater skepticism (and dotted moreso) as they are more likely to be incorrect. See the forum links below to report any tag misuse. Tags do not indicate to which images and to which participants they are applicable within a gallery; this information can be provided by gallery comments.
Good Tags
Contents/Fetishes

As long as they are relevant sexually and pass presence. Whenever in doubt it is better not to tag them.
Languages

Tagged in their English equivalent (e.g.

Spanish

not

Espanol

).
Circles

Names of the circles/groups that published the work. Should NOT be added when they are not officially credited (e.g. most Manga).
Artists

Names of the artists who drew portions of or all of the work; must be officially credited as such. Japanese artists should be written using Hepburn romanization; some exceptions exist for artists that consistently spell their names otherwise.
Cosplayers

If the cosplayer consistently uses a name order, use that. Otherwise, follow the name order of the cosplayer's country.
Original Series

Names of the series that are being parodied. Should generally be as specific as possible (e.g. Dragon Quest VIII instead of just Dragon Quest) if the sub-series passes presence. A combination of images from different sub-series that passes presence (but no one sub-series passes) uses the generic series tag instead.
Participants

Names of characters (including cosplaying) participating in the gallery. Original characters (non-parodies) that do not exist outside of their own works should not be tagged.
Category tags should only be used to fix an improperly categorized gallery. Once a tag receives 100 power the category will switch. If multiple tags over 100 power are present the one with the highest power will be used. These tags are automatically pruned from galleries after 30 days of no voting activity.
Tag Directory
Information Sources
The information used to tag should always be based solely on the contents of the images in the gallery itself. The gallery's title, comments, or 3rd party sites do NOT qualify as information sources in the majority of cases.
Exceptions:
For tags that are often confused for one another.
Bad Tags
Commissioners / Decensors / Scanners / Translators

Do not produce the content.

Locations / Weather

(e.g. forest, office, prison, school, space, sunny, virtual reality)

No Sexual Connection

(e.g. baseball, celebrity, clouds, exercise, microphone, pillow, red eyes, sword)

Opinionated / Pejorative

(e.g. cute, extreme, funny, gross, hot, garbage, nice, sad, scary, terrible, ugly, weird)

Publishers / Websites

Do not actually produce the content. Rare exceptions apply if nothing else can be used to identify a work's creator.

Software

The tools the artist used to created the content are irrelevant.

Too Common

(e.g. anime, nymphomaniac, semen, sex, skirt, softcore, straight, upskirt, vaginal)

Too Vague

(e.g. areola, ass, fetish, nipples, pussy, shaved, wet)

Writers

Not to be confused with the artists.
Do Not
Temporary Tags
Upvoting these tags is generally unnecessary. Galleries may be fixed / updated which would render such tags invalid.
Tagging earns points towards the toplists.

Poor tagging will result in the user losing power. Any attempts at farming points, accuracy spoofing, or heavy misuse WILL result in a permanent ban.
Exact Tag Searching
Searches for certain tags can return results from more tags than intended. This happens to tags that appear as partial strings inside longer tags.
Example: The tag f:wolf will match both wolf and wolf girl. This also impacts slave tags; a search for f:anal may return a gallery tagged with sex toys. This happens because the search for anal matches "anal beads" which is slaved to sex toys.
To avoid this users may search with a dollar sign at the end of the tag to search only for that string (e.g. f:wolf$, f:anal$, etc.) This behaviour is the default for tags that have less than three characters (e.g. f:cat will not match catgirl).
To avoid searches that include a slaved tag's master add "&skip_mastertags=1" to the search URL.
Tagging Hotkeys
The following hotkeys can be used when a tag is selected.
Function
Hotkeys
Numpad
Other
Show All Tagged Galleries
4
A
Show Tag Definition
6
D
Vote Up
8
W
Vote Down
2
S
Clear Selection
5
Spacebar
Tag History
Users can check their own tag history (up to the last 1,000 actions within the last 30 days), accuracy ratings, and overall usage via this tool:
https://repo.e-hentai.org/tools.php?act=taglist&uid={USERID}
See also
Forum Links