Doggie Bag
From EHWiki
The Doggie Bag System is a primary means of downloading content on the E-Hentai Gallery System and E-Hentai User Gallery System. Doggie Bagging allows registered users to download archived copies (in .ZIP format) for a fee of credits.
How to Use
In an E-Hentai Gallery, click on the "Download an archive of this gallery" link that is located below the gallery information.
In a user gallery, click on the "Archive Download" link on the right of the page.
A user is shown a browser window with their current credit total, the size of the gallery, and the cost of the gallery. The fee is deducted, and the window automatically are periodically refreshes the window, automatically providing a download prompt when the download is available.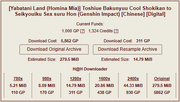 Costs
The cost to download a gallery is primarily based on its total filesize after being compressed. It is then modified by:
Aura Modifier which discounts costs based on stars owned.
Re-Downloading
There is an option to re-download a doggie bagged gallery for up to 1 week from when credits are deducted. A list of active doggie bags as well as other information such as how long a doggie bag will still be active are available in a
My Home
section called
My Archives
. Galleries can also be re-downloaded by returning to their respective pages and clicking the download link again.
See also