Site Status
From EHWiki
Jump to navigation
Jump to search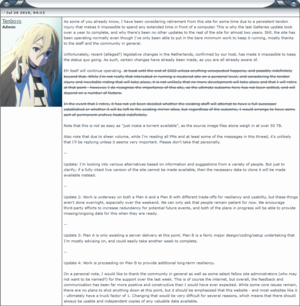 For further official updates please check recent forum posts by Tenboro.
FAQ
Is the site shutting down?

This is no longer the case, at least for the foreseeable future.
Was anything deleted / lost?

No.
Can we upload / tag / comment on galleries?

Yes. All gallery activities are continuing as per usual. Please do not intentionally mistag galleries.
Should I send money?

Donations are appreciated but not necessary. This is not (and never was) a financial issue.
よくある質問
サイトはシャットダウンされていますか?

これは、少なくとも当面の間は、もはやそうではありません。
何か削除されましたか / 失った?

いいえ。
ギャラリーにアップロード/タグ/コメントはできますか?

はい。すべてのギャラリー活動は通常どおり継続しています。意図的にタグを間違えないでください。
私はお金を送るべきですか?

寄付は高く評価されますが、必要ありません。 これは(そしてそれは決してなかった)財政的な問題ではない。
常見問題
網站會被關閉嗎?

不會。至少,在可以預見的未來,關閉網站的問題已經不復存在。
有任何內容被刪除或者遺失了嗎?

沒有。
我們可以上傳畫廊,幫畫廊打標籤和評論嗎?

都可以。所有的畫廊活動會如常進行。請不要故意在畫廊打上錯誤的標籤。
我應該對網站進行捐贈嗎?

我們很感激用戶通過捐贈去支持網站,但您並不必須要去進行捐贈。此次的閉站風波並不是(也從來不是)一個財務問題。